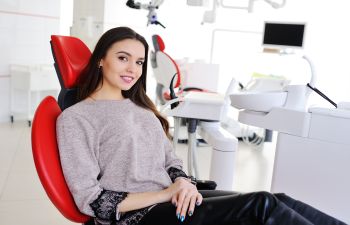 Many adults are bothered by the presence of "black triangles" in their smile. What are black triangles? In most cases, this refers to dark spaces that form between your teeth near the gum line. Black triangles are often the result of gingival (gum) recession or resorption of the gum tissues between your teeth. These unsightly gaps can form on the upper or lower teeth. The solution to fix black triangles is largely dependent on their cause. A skilled cosmetic dentist is the place to start.
Evaluating the Reason for Black Triangles
When addressing your black triangles, a dentist will first evaluate you for the presence of active or ongoing gum disease. If your periodontal disease is not managed properly, your black triangle condition will worsen over time.
Gum disease is the primary cause of gum recession that causes black triangles. When not treated in a timely manner, this type of gum infection slowly causes the gums to pull away from the tooth roots. Eventually, gum disease can destroy these soft tissues as well as the underlying bone. The good news is that most cases of periodontal disease can be reversed with professional treatment.
Some patients may find that their black triangles are a result of a labial frenum attachment.  In other words, the ligament that attaches the upper lip against your gums could be inhibiting a normal gum line and causing dark spaces between your teeth. Minor gum surgery may be needed to reposition your frenum attachment and improve black triangles. Gum grafting or contouring is also an option. A gum graft can improve gum recession if you have enough supporting bone structure.
Is Dental Bonding Your Solution?
Most patients, however, who have black triangles without progressive gum disease will find that cosmetic dental bonding is the best solution. An experienced cosmetic dentist can use composite resin to build out the adjacent teeth and close the black triangle gap. You can trust Dental Care Acworth to provide top quality dental bonding that will fix your black triangles, yet retain your natural tooth in shape, color and form.
Do you have imperfections in your smile that you want to get rid of? We offer a full range of options in cosmetic dentistry, but we put the health of your smile at our highest priority. In situations like black triangles, our dentist ensure that your aesthetic issues are not caused by an oral health problem that needs to be addressed first. At Dental Care Acworth, we believe that a confident smile is one that is both attractive and healthy. Our dental office can help you achieve both!