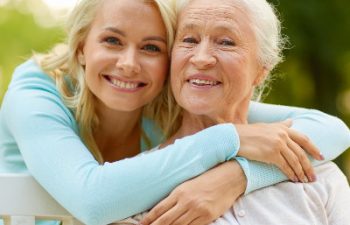 If you are someone you know has missing teeth, you need to start weighing your options to restore your smile. Most people are anxious to invest in a tooth replacement option based purely on the cosmetic benefit of the restoration. However, even if you aren't concerned with how your toothless smile looks, there are other reasons to replace your missing teeth. Not only do you need your teeth to chew food properly, but you will also start to experience bone loss in your jaw if you don't replace them. Jawbone loss can eventually lead to facial collapse and premature aging.
Now that you're convinced you need to do something about your missing teeth, let's explore your options. Most patients are faced with choosing between dentures and dental implants. Before you shy away from the cost increase of choosing dental implants, there are some very significant benefits to be aware of – which far outweigh the upfront expense!
What are Dental Implants?
Dental implants are prosthetic screws made of titanium that are placed in the jawbone to take the place of missing tooth roots. This is an important difference from dentures because replacing a tooth root means that the jawbone is adequately stimulated and bone loss is prevented.
Once the implant has been allowed to heal, the screw fuses to the bone and is anchored securely into place. Prosthetic teeth can then be attached to the implants to take the place of missing teeth. Dental implants are considered the gold standard tooth replacement option and a long-term solution.
Why Dental Implants Are Superior for Teeth Replacement
Here are a few important reasons why choosing dental implants is worth the investment:
Authentic: Dental implants look, feel and function like natural teeth. Unlike dentures, you will never have to worry about clicking, popping or slipping. In fact, most people never even notice a dental implant versus a real tooth. Not only can you have a functional smile with dental implants, but a confident one as well.
Convenience: Traditional dentures or partials require extra maintenance and cleaning as well as messy denture adhesives. Dental implants, on the other hand, demand the same oral hygiene routine that your natural teeth have always required.
Diet and Health: Have you considered what dentures can do to your eating habits long term? With dentures, many patients are forced to eliminate foods that are harder to chew. Unfortunately, the foods that are left behind are often foods that are high in fiber and carry vital nutrients. Denture patients usually replace these foods with softer foods that are dense in carbohydrates and calories. In the long run, these eating habits can lead to obesity and contribute significantly to heart disease and diabetes. Dental implants not only allow you to eat the foods you love, but they ensure you are not forced to eliminate nutrient-rich options from your diet.
Regardless of whether you need one tooth replaced or a full set of new teeth, Dental Care Acworth can help you with dental implants. Your smile is worth it!