MTM Clear Aligners
At Dental Care Acworth, we understand that many people want to improve the appearance of their smile. We also understand that not everyone wants to use metal braces as an orthodontic treatment option. Our practice proudly offers MTM Clear Aligners for patients who want to straighten their teeth discreetly.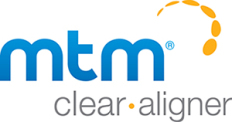 MTM Clear Aligners are a comfortable option for straightening your teeth without advertising to everyone around you that you are undergoing orthodontic treatment. MTM Clear Aligners are designed for patients whose front teeth are out of alignment. A series of aligners are created that gently shift the misaligned teeth into the correct position. These aligners are custom made for each patient. Every mouth is unique, and MTM Clear Aligners are devised to meet each patient's specific needs. Dental Care Acworth works with every patient who chooses MTM Clear Aligners to design and create a beautiful smile.
The Clear Choice for Adults
MTM Clear Aligners are a preferred method for straightening teeth among adults. With the clear aligners, your smile can be completely transformed without anyone suspecting anything. These specially made aligners easily slip over your teeth and work discreetly to correct your smile. MTM Clear Aligners need to be worn for approximately 22 hours every day to work properly. Patients are advised to remove the aligners only when eating and when brushing and flossing their teeth. Failure to keep the aligners in the mouth for the set amount of time will prolong orthodontic treatment and can prevent the desired results from being achieved.
MTM Clear Aligners are the clear choice for adults who want to correct their smile inconspicuously. Adults tend to have the motivation and maturity to wear their aligners as they should. By wearing the aligners correctly, the teeth will gradually shift into their desired positions prescribed by Dr. Michael Lee, II. The treatment plan that patients receive at Dental Care Acworth is specifically designed to achieve their desired results.
Contact us today to schedule a consultation to determine if MTM Clear Aligners are right for you. This clear and convenient solution may be just what you need to achieve your dream smile.