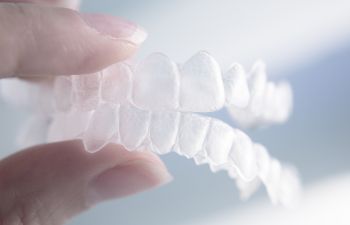 As a parent of a teenager, we know you are working hard to pick your battles. Teens tend to be very image-conscious, and they are often quick to express their opinions as they push for more independence. This can make topics such as wearing metal braces a sensitive subject to approach. While you teenager may need and want straight teeth, the thought of wearing bulky metal braces can be tough for a teen to get on board with. Fortunately, modern orthodontics have come to the rescue. Many teenagers have the option of wearing the revolutionary clear aligner system of Invisalign to straighten their smile.
What is Invisalign Teen?
Invisalign Teen works the same way it does for adults. Your teen will wear a custom-fit set of aligners for up to two weeks before the next set is changed out. These clear plastic aligners are able to gently move the teeth into ideal position over time, but without the embarrassment, discomfort and restrictions that metal braces involve. Invisalign Teen can address several orthodontic concerns such as gaps, crowding and crooked teeth as well as under bites, overbites and crossbites. Only a certified Invisalign provider can determine your child's specific candidacy.
Why Invisalign is the Perfect Fit for Teenagers
Invisalign is a very popular form of orthodontics for all ages. However, teenagers can reap the most benefits. Here are some leading reasons why teenagers don't put up a fight with Invisalign:
#1 Maintain Dietary Freedom: Invisalign can be removed for eating. This means that you can still have popcorn at the movies with your friends as well as that sticky candy that keeps you going through a long study session. Unlike braces, there are not "off-limits" foods for Invisalign.
#2 Less Office Visits: Teens represent a busy and active age group. Whether it is school, sports, clubs or other extra-curricular activities, we know there is little room in the calendar for orthodontic visits for your teen. With Invisalign, you won't have the frequent appointments for adjustments and tightening like you do with braces. In fact, we just need to see you every 4-6 weeks to check your progress.
#3 Better Oral Health: Braces involve brackets, wires and rubber bands that can make cleaning a challenge. It is not uncommon for teens to suffer from staining, gingivitis and cavities during their time in braces. Invisalign, however, can be removed for brushing and flossing. This means you can keep your teeth and gums in ideal shape during treatment.
#4 Nearly Invisible: Last but not least, there are no social drawbacks or threats to your self-confidence when wearing Invisalign. The clear aligners are highly discreet and most people won't even realize you are undergoing orthodontic treatment. Best of all, you can remove them completely for yearbook photos, the school dance or to play an instrument in the band!
Is Invisalign Teen Right For Your Child?
Call Dental Care Acworth today to learn more about your teen's candidacy for Invisalign. We are proud to be a certified provider for Invisalign and Invisalign Teen. We have helped countless patients achieve the straight, beautiful smile they deserve with minimal sacrifice to their lifestyle and self-esteem.