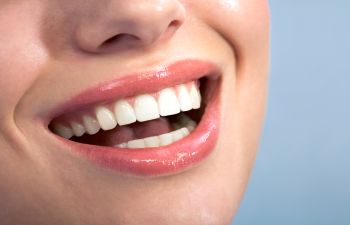 If you feel self-conscious about the appearance of your smile, you are not alone. Countless patients turn to cosmetic dentistry to correct teeth that are misaligned, stained, misshapen, chipped or gapped. While teeth whitening can deliver temporary brightness to your smile and dental bonding can correct minor imperfections, it is porcelain veneers that can address the largest range of aesthetic concerns in the most dramatic way. Here are some leading reasons why patients choose a smile makeover with porcelain veneers.
What are Porcelain Veneers?
Porcelain veneers are one of the most sought-after solutions in cosmetic dentistry. These wafer-thin shells of porcelain are placed on the front surface of your front teeth. Instead of actually correcting your imperfections, porcelain veneers offer a way to permanently hide them. Veneers offer the translucency and durability of a natural tooth, and they can be custom-fabricated to meet your specific goals for your new smile in terms of shade, size and shape.
Porcelain veneers are considered an irreversible procedure, as a tiny portion of your tooth structure must be shaved in order for the veneer to form a strong bond. The entire process, however, can typically be complete in 2-3 office visits with very little disruption to your schedule and comfort. 
Are Cosmetic Veneers Right For You?
Ideal candidates for porcelain veneers should be patients who are longing for a confident smile but have multiple imperfections within their front ("smile zone") teeth. Patients should also be in good oral health, with no signs of gum disease, infection or decay. Veneers are a long-term solution to improve the appearance of your smile, which has also been shown to boost your emotional well-being and quality of life.
Here are some leading reasons why patients choose a smile makeover with porcelain veneers:
#1 To protect cracked, chipped, or broken teeth
If you have teeth that are damaged and weakened but without infection, porcelain veneers can offer a layer of protection to not only improve the appearance of the teeth but to also help avoid future breaking and fracture. In some cases, veneers can also lessen some of the pressure placed on broken teeth when chewing or biting down.
#2 Hide permanent stains
Not all tooth stains respond to teeth whitening treatment. If you have severe discoloration or permanent staining in your front teeth, veneers are an excellent, long-term solution. In addition, your veneers are non-porous, which means they are resistant to future staining!
#3 Correct misaligned or gapped teeth
As long as you don't have bite issues, veneers can often be used as "instant orthodontics" for slightly crooked or gapped front teeth. This alternative can be less-expensive and  much more convenient than wearing braces.
#4 The process is straightforward and stress-free
Porcelain veneers can be fitted, fabricated and placed in just 2-3 short office visits. Not only will you be kept pain-free during your time in the dental chair, but your recovery after getting your veneers is typically seamless with minimal soreness and disruption to your normal routine.
#5 Veneers can be cared for like real teeth
The same guidelines you adhered to when caring for your natural smile can be used to maintain your veneers. You'll need to brush and floss daily and visit your dentist every six months for professional cleanings. Be careful to not use your front teeth to open packages and disclose any teeth grinding habits with your dentist beforehand.
At Dental Care Acworth, we proudly combine our talent and skill with the latest that cosmetic dentistry has to offer. In result, we are able to give our patients drastic improvements to their smile with minimal sacrifice to their time and comfort. If you are hiding your smile due to imperfect front teeth, schedule a consult with us about porcelain veneers.