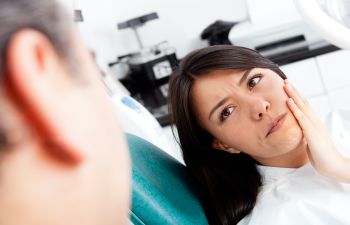 Whether you broke a molar while noshing popcorn at the movies or your child knocked out their front teeth in a freak accident at the swimming pool, sometimes you need emergency dental care that can't wait.
Where can you go? While some people might choose the emergency room, especially for an accident involving their child, the truth is that ER doctors are not trained to handle dental trauma. Not only that, but you will most likely have to sit and wait for HOURS at an ER because they have to prioritize by trauma level. So the patient with a heart attack that just came in will see the doctor before you- and rightfully so!
Same Day Dentistry in Acworth
When you have your dental emergency, the best thing to do is to call Dental Care Acworth for same day treatment. We know how important it is for you to be seen quickly with priority. We schedule our regular patients in a way that allows for emergency appointments to be made for the same day. So you won't have to "baby" that broken molar for days or weeks waiting to see the dentist.
For some folks, having a dental emergency is about the worst thing that can happen. They have medical insurance, but not dental insurance, or they simply don't have the funds available, even with their existing benefits. Whether or not you have dental insurance or immediate payment available, Dr. Michael Lee will treat you. Not only do we work with insurance, but we also offer a membership plan and flexible payment options for our patients to afford the care they deserve.
Don't put off your dental emergency. Contact Dental Care Acworth today.