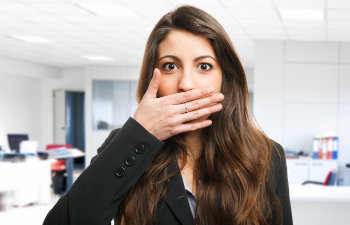 The phrase "watch your tongue" most often refers to your words or speech. However, a dentist may also tell you to watch your tongue – quite literally. While your teeth and gums get most of the attention, your tongue also plays a strong role in your oral health. In fact, just the appearance of your tongue can tell us a great deal about your dental health as well as your whole-body health. Did you know that Chinese medicine believes that the tongue reflects all the diseases of the body?
Brush Your Tongue
How do you tend to your tongue? First and foremost, keep it clean. Your tongue has countless dark and moist grooves and crevices where bacteria like to live and breed. In fact, not cleaning your tongue is a leading cause of halitosis, or chronic bad breath.
Examine Your Tongue
Next, you need to keep a watchful eye on the appearance of your tongue. Go ahead and stick out your tongue at yourself in the mirror and take note of the following changes in color and texture:
White Coating: When the tongue looks white and pasty, either in patches or all over, it is an indication that there is some sort of infection. Either bacterial overgrowth (thrush) or an autoimmune-related inflammatory disease can produce this.
Sores: Canker sores or mouth ulcers that develop on the tongue can be very painful. However, it is important to know that a normal canker sore will heal within 7-10 days. If you have painful or visible lesion/sore on your tongue that lasts longer, let your dentist evaluate it for oral cancer.
Pale: A pale tongue could mean you have an iron deficiency. Iron helps produce energy and hemoglobin.
Bright Red: Your tongue should remain a healthy pink. When it becomes dark red or bright red, this can mean a nutritional deficiency of niacin, folic acid or vitamin B12.
We Care About Your Whole Mouth Health
At Dental Care Acworth, we are experts at treating your gums and teeth. However, our dentists never dismiss the importance of a healthy tongue. When attending your routine dental visits, we carefully consider the health of your entire oral cavity. What steps can you take at home to ensure your tongue is being cleaned and monitored as well as your teeth?