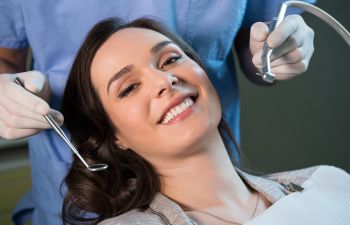 If you are an expectant mother, you likely have a calendar full of doctor appointments and checkups to attend. However, in your quest to monitor your baby and your body during these nine months, don't forget your teeth and gums. In fact, your oral health is a critical component of your pregnancy. Not only do pregnancy hormones affect your dental health, but there are certain oral health conditions that can affect your unborn baby too! It is important that you make time for your routine dental cleanings and exams during this special time.
Pregnancy and Gum Disease
Gum disease is a primary concern for mothers-to-be. In fact, it is so common that "pregnancy gingivitis" has earned its own name. Often during the second trimester, women experience a rise in hormones that coincide with inflamed gum tissues. The extra pregnancy hormones make your body less able to fight bacterial invasion from plaque buildup. Once the bacteria irritates the gums, an open invitation for gum infection is given.
Unfortunately, pregnant moms face an uphill battle against gum disease for additional reasons as well. Some women have severe morning sickness. This may cause you to avoid brushing your teeth as often or rely on sugary or carbohydrate-rich foods to settle your stomach. Again, this is not a good defense against gum disease and other dental health problems.
The Scary Consequences
What's so serious about gum disease during pregnancy? Not only can gum disease cause tooth loss and surrounding bone destruction, but it has also been linked to preterm births and low-weight babies. According to the Center for Disease Control and Prevention (CDC), babies with a birth weight of less than 5.5 pounds may be at risk of long-term health problems such as delayed motor skills, social growth, or learning disabilities. Similar complications are true for babies born prematurely.
For the sake of your smile and your baby's health, don't cancel that six-month dental checkup. Dental care during pregnancy is not only safe, but highly recommended. If you need a lengthy restorative procedure, it may be delayed until after you have reached a certain point in pregnancy or after you have delivered. However, routine, preventive care is non-negotiable.
If you are pregnant and notice that your gums are red, tender or swollen, call Dental Care Acworth. We welcome the opportunity to keep your mouth in top condition as you prepare for your special delivery.