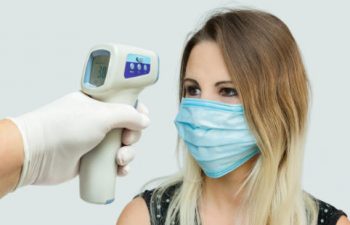 While we've put 2020 behind us, we can't put away our masks just yet. Amid the COVID-19 pandemic, Americans are still wearing masks to help prevent and slow the spread of this unwanted virus. Masks certainly help protect the health of our bodies, but what are the ramifications inside your mouth?
You may be hiding your smile behind your mask, but that doesn't mean your dental health goes unscathed. In fact, a new condition known as "mask mouth" refers to the oral health issues associated with mask wearing. If you wear a mask or other protective face covering for long periods of time, you may be at risk for serious dental concerns such as tooth decay, bad breath and receding gums.
How Does a Mask Contribute to Dental Problems?
Dry mouth is the primary culprit to the dental issues associated with mask wearing. Masks are forcing many people to breathe through their mouth instead of their nose. However, our bodies were designed to get 80% of our oxygen intake from our noses. Such extended periods of inhaling though our mouths can leave the oral cavity drier than usual. Unfortunately, a dry mouth environment is a breeding ground for oral health problems.
Dry mouth typically means that saliva production is not keeping up. We need saliva to keep our mouths moist, make swallowing more comfortable and rinse away food debris and acids from our teeth between meals. Less saliva often leads to more oral bacteria, which is the leading factor in decay, gum disease and bad breath. Unfortunately, a lack of water intake that often comes with wearing a mask only makes matters worse.
What You Can Do
Don't worry; we don't want you to stop wearing your mask to save your oral health. There are things you can do to protect your teeth and gums while also wearing a mask and protecting yourself from COVID-19. Consider adding the following habits to your daily routine:
Drink water as often as possible
Brush your teeth after eating
Chew sugarless gum
Stay diligent with your oral hygiene routine
Call your dentist at the first sign of trouble
At Dental Care Acworth, we want our patients to stay as healthy as possible this year. Make sure you understand the unique efforts you may need to take for your smile in 2021. Contact our Acworth dental clinic today!