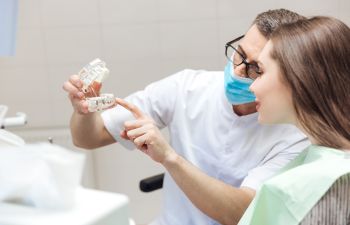 Restorative dentistry is a specific field of dentistry that focuses on replacing missing teeth. While there are countless ways to protect and repair your natural teeth through all stages of life, there are still times in which tooth loss occurs. Whether you've lost a single tooth or a full arch of missing teeth, restorative dentistry can save the day. In other words, you don't have to live with a gapped or absent smile after missing teeth. In fact, restorative dentistry offers a full menu of teeth replacement options, including those that provide a remarkable replica to your natural teeth!
Why Replace Missing Teeth
When an adult tooth goes missing, it triggers a devastating chain of events within your smile. Not only is the appearance of your smile compromised, but your oral health can be threatened too. It doesn't take long after tooth loss for your surrounding teeth to migrate towards the open space. This creates misalignment and tight spaces in your smile that may be difficult to clean. In addition, the jawbone that supports your teeth can lose density and height when a tooth root is not there to stimulate it. This bone loss can eventually change the shape of your lower face! Therefore, missing teeth can often create the following setbacks if they are not replaced by a prosthetic tooth or teeth in a timely manner:
Crooked and/or gapped smile
Limitations in eating and speaking
Frequent cavities
Bad bite/jaw problems
Bone loss/premature facial aging
Your Options in Restorative Dentistry
Restorative dentistry is always customized to the unique needs and goals of each patient. For single tooth loss, patients can choose from a dental implant or a custom bridge. For multiple teeth that are lost, restorative dentistry offers partials, dentures and implant-supported dentures. While the upfront cost and time is higher, implant dentistry offers the closest replica to your natural teeth in look, feel and function. Dental implants are also the only solution that prevents bone loss after missing teeth.
If you have missing teeth, we invite you to talk to our skilled restorative dentist at Dental Care Acworth. We understand the careful balance of science and artistry that it takes to create a strong and beautiful smile after missing teeth. Learn your teeth replacement options today!