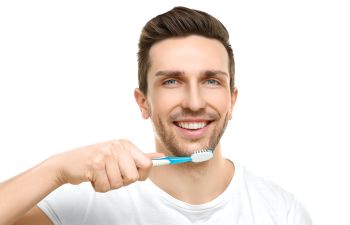 For many of us, routine has gone out the window. As many families across the nation choose to 'shelter in place' and stay at home during the Coronavirus pandemic, it brings a new normal to schedules and daily routines. As an advocate for your dental health, however, we urge patients to not let oral care fall by the wayside as you clock in more hours at home.
Whether it is boredom or stress, it is common to develop new habits during this time. Some of these can be harmful to your oral health. For example, it can be tempting to not brush as often since you are not going out of the home to work or snack on sweets more frequently because you are bored or simply near the kitchen all day long. Be mindful, however, of how these habits can impact your smile health over time. Instead of slacking off on your oral care routine, we invite you to use this as a time to boost your dental health. Yes, there are ways to improve your smile health while you stay at home, which will in turn protect your overall health and prevent unwanted or painful dental complications.
Consider the following ways that you can step up your dental care game at home:
Get a New Toothbrush. Does your toothbrush need to be replaced? The ADA recommends replacing your toothbrush every 3 months or when the bristles become frayed and worn. Take the opportunity to start fresh with a new toothbrush. You may even want to consider a powered version to really enhance your dental hygiene experience at home.
Drink Water Often. Your entire body thrives on hydration, but your mouth can really benefit from the extra water intake. Keep a water bottle close by and sip on it throughout the day. Water is not only a safe liquid (not sugary, acidic or staining) but it also does the best job at rinsing away food particles and harmful bacteria from your teeth and gums. Staying hydrated also means producing adequate amounts of saliva, which your mouth needs for optimal health.
Keep (or Start) Flossing. When it comes to flossing, you've really got no excuse not to. Flossing is your best weapon against gum disease and it cleans the 35% of your tooth surfaces that your toothbrush can't reach. With extra time on your hands at home, establish the important task of flossing each day. If traditional flossing thread is not your thing, consider investing in a water flosser.
Snack Smarter. If your snacking habits have changed a bit since you've been at home, you are not alone. However, your waistline won't be the only part of your body to suffer if you indulge in sugary or starchy snacks all day long. Bacteria in your mouth feed on sugars from treats as well as those from refined carbs. Stay away from these types of foods if you can, especially if they are likely to cling to your teeth (such as candy, raisins, muffins and even certain crackers).
Need a Dentist in Acworth?
At Dental Care Acworth, we know that dental concerns do arise. If you need an emergency treatment, our office is available to help. Otherwise, we welcome the opportunity to educate our patients on ways they can keep their smile healthy and strong in between routine dental visits.