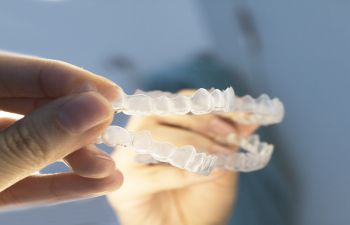 Clear aligners have changed the face of orthodontic treatment. Now patients have the opportunity to straighten their smile without the embarrassment, discomfort and disruption of bulky metal braces. Clear aligners rely on removable plastic trays that are custom-made for each patient. Not only are they effective at moving teeth into better position, but they are also nearly invisible to others. When it comes to clear aligners, however, there is more than one option.
Most patients are familiar with Invisalign, the most popular solution in clear aligner orthodontics. However, many dental practices, such as Dental Care Acworth, also offer another effective alternative called MTM Clear Aligners. What is the difference between the two and why should a patient choose MTM Clear Aligners? Here's what you need to know.
The Same Benefits as Invisalign
Though they are lesser-known, MTM Clear Aligners can offer similar benefits to Invisalign at a more affordable cost. These benefits include:
Discreet Design. Both MTM and Invisalign are clear, removable trays that are barely detectable by others.
Removable Convenience. Although you'll need to accumulate at least 22 hours of wear each day, you can remove both Invisalign and MTM Clear Aligners to eat and brush your teeth. This allows you to keep your teeth and gums cleaner during treatment as well as have the option of taking them out for special events.
Faster Treatment Time. Clear aligner systems are known for their quicker treatment process compared to traditional braces because teeth shift together rather than individually.
Versatile Solution. Both types of aligners correct a wide variety of orthodontic issues such as overcrowding, gaps and protruding teeth.
What Sets MTM Clear Aligners Apart?
MTM stands for Minor Tooth Movement. These clear aligners are specifically designed to address simple orthodontic corrections of mild to moderate spacing or crowding. In fact, most candidates only need improvement within the 6 upper and 6 lower teeth of their mouth, or those that are most visible when they smile. In doing so, fewer aligner sets are needed to achieve overall results, which means that MTM Clear Aligners can offer a shorter overall treatment time at a lower cost compared to Invisalign. While it varies from case to case, many patients can achieve their beautiful straight teeth in as little as 4 to 8 months using MTM Clear Aligners!
Are MTM Clear Aligners Right for You?
To learn more about MTM Clear Aligners or determine if this type of orthodontics is right for you, please schedule your consult at Dental Care Acworth. Our dentists are proud to offer both Invisalign and MTM Clear Aligners to ensure each patient receives the most suitable and preferred treatment available.